Reduce your Electric Bill – Without Changing Power Companies
SAVE UP TO 25% ON YOUR MONTHLY ELECTRIC BILLS!
The Peak Energy Saver™ for Residential Applications.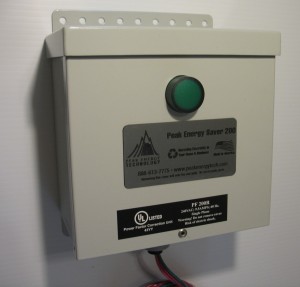 The Peak Energy Saver reduces the amount of power drawn from the utility by storing electricity otherwise lost from the motors in your home. The unit supplies this stored electricity back to your appliances, decreasing demand from the utility. Lower demand means lower electric bills!
The easy-to-install Peak Energy Saver was designed with the homeowner in mind, providing lower energy bills, longer motor and appliance life, for all of the equipment inside of your house.
Residential customers throughout North America are realizing a savings that varies between 10% to 25%.  Most homeowners realize a savings of 18% – 20%  and some get as much as 25% on their electrical usage (and thus power bills). The Peak Energy Saver is UL Certified and CSA certified.  The Peak Energy Saver  should not be installed on circuits that have automatic backup generators.
Money isn't all that you are saving when you use Peak Energy Technology products. It's an energy-wise purchasing decision with many positive environmental implications.
Peak Energy Technology includes a 90-day money-back guarantee! You have nothing to lose – except high electric bills.
The Peak Energy Saver is more than a box; it is a complete product.   You will get an installation kit and a list of suggested  licensed electricians in your area to install the unit and kit.   With the Peak Energy Saver bundle, most installations can be completed by a licensed electrician within an hour, many only take about 30 minutes.  This saves you money since the electrician would normally charge you to go to the store to buy parts.  At a typical rate of $100 per hour, this can be a significant savings.
The typical price of a Peak Energy Saver in a home is $480.  For a free installation estimate, call 1-888-613-7775 or use the form below.