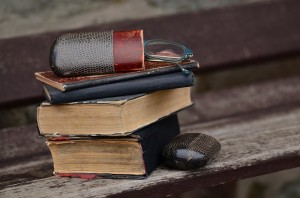 We all know about recycling our household waste in the form of paper, plastic, metal, glass, and cardboard but there are plenty of other things we can recycle as well. Clothing can be re-used by donating to charitable organizations or we can reduce our consumption by buying from resale shops. It's surprising what you can find if you make it a habit to browse these stores while you are out shopping. You won't find something every time but you can pick up a gem pretty often if you go regularly.
Books, cassette tapes, CDs, and VHS tapes can be resold on Amazon.com. It's easy to get started and you can earn a little extra money instead of throwing the items away. You can learn more about it here: Amazon Seller Central
Styrofoam and packing peanuts all too often get thrown away when another option might be to donate them to a local shipping store. Many cities have a local office supply who would gladly take them off your hands.
There are so many other things that can be passed on to other people in need such as eye glasses and cell phones. Together, we can make a very big difference in how much we waste.
You can find more ideas to reduce, re-use, and recycle at: 21 Things You Didn't Know You Could Recycle